Coldest ever November night for Yorkshire recorded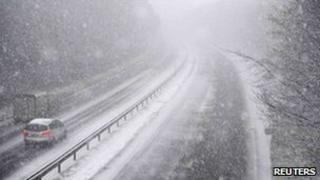 Yorkshire has had its coldest November night since official records began, forecasters have said.
The Met Office recorded a temperature of -14C in the North Yorkshire village of Topcliffe overnight on Saturday.
This is lower than the previous Yorkshire record of -11.9C in Church Fenton, near Tadcaster.
Snow showers are expected to continue across the region during the coming week, with severe drifting predicted on some high ground.
BBC Look North weather presenter Keeley Donovan said the figure was received from the Met Office on Sunday morning.
"From the early hours of this morning we knew it could well be record-breaking, so it was exciting when it was confirmed," she said.
Police are continuing to warn motorists to make sure they are not caught out by the difficult conditions.
A Met Office severe weather warning for further snow showers in Yorkshire and Humber remains in place.