Drivers caught out by cold snap in North Yorkshire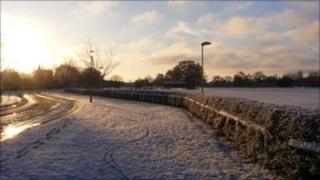 Plummeting temperatures and snow falling on to frozen surfaces has been the cause of at least 20 accidents in North Yorkshire, police said.
Roads across the county were open even after fresh snow, but police said many motorists were being caught out by the difficult conditions.
Insp Vicky Taylor said there had been a spate of accidents early on Saturday, while others happened mid-morning.
Ms Taylor said there had been no injuries reported from the accidents.
She said: "We had a busy start to the morning, by six o'clock we had 13 accidents reported to us.
"None of them were serious, it's been mainly down to cars skidding off the road and into fences and fields."
By midday the accident figure had reached 20, officers said.
Earlier the Met Office had issued a severe weather warning for widespread icy roads and heavy snow across Yorkshire and Humber.
North Yorkshire County Council said it was prepared for the bad weather and had plenty of grit stocks.