North Yorkshire to keep free bus travel for pensioners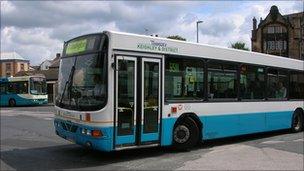 Pensioners who travel free on off-peak bus services in North Yorkshire are to have the concession safeguarded, the county council has decided.
The authority is taking over the running of concessionary fares from the various district councils and considered a number of options.
But because of the area's rural nature bus pass holders can travel free at any time except between 0600 and 0900.
Those living in the Craven district will lose the "anytime" free travel.
The change in the Craven district will take effect when the county council assumes responsibility for managing the concessionary fares in April 2011.
County councillor Clare Wood, who is responsible for integrated passenger transport, said: "The county council carried out extensive consultation.
"It became clear that the vast majority of residents were opposed to any changes that might have a detrimental impact on the ability to travel of people living in rural areas.
"We listened carefully to those concerns and have made a decision which we believe will help all our residents maintain access to travel."
Related Internet Links
The BBC is not responsible for the content of external sites.