Scarborough West Pier: £250,000 revamp set to start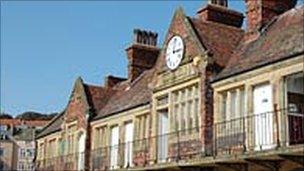 Demolition work is due to start this month as part of a £250,000 revamp of Scarborough's West Pier.
Two bait sheds are to be removed as part of a phased development which will bring new fish processing, leisure and shopping facilities to the pier.
The exact future use of the site is subject to consultation and planning approvals, Scarborough council said.
The space freed up by the demolition of the bait sheds will be used in the short term for 44 car parking spaces.
Cash raised from the car park will go towards the cost of the improvements, which include a new ice plant and a new and larger fish and shellfish processing area for existing tenants.
Alex Richards, project manager for Scarborough council, said: "We have worked with the fishing industry to reorganise the fish market and provide new chiller facilities.
"The existing tenants have been very helpful in the relocation process and many have taken the opportunity to upgrade their business premises and facilities.
"If all goes to plan and weather permitting we hope to have the first shed down before Christmas."
Demolition of the two buildings will return the pier to the format which existed between 1914 and 1973.
Related Internet Links
The BBC is not responsible for the content of external sites.