New posters in Claudia Lawrence murder case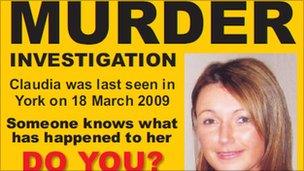 Police vehicles in North Yorkshire will carry a poster appealing for information on the disappearance of York chef Claudia Lawrence.
The new posters carry a picture of Ms Lawrence and remind the public that her disappearance is being treated as murder.
The posters are on 20 marked police vehicles in the county and are due to be added to more.
Ms Lawrence was last seen in York on 18 March 2009.
North Yorkshire Police came under criticism for its handling of the case.
But the National Policing Improvement Agency said it had been carried out with "integrity and objectivity".
The report noted that good practice was evident in the inquiry and no investigative opportunities had been overlooked.
Ms Lawrence, who was 35 when she went missing, was last seen near her home in Heworth. She failed to arrive for her job as a chef at the University of York the following morning.
The Claudia Lawrence investigation is one of the largest carried out by North Yorkshire Police and has so far cost more than £600,000.
Related Internet Links
The BBC is not responsible for the content of external sites.