Former hostage's film about meeting Colombian captor
By Louise Hosie
BBC News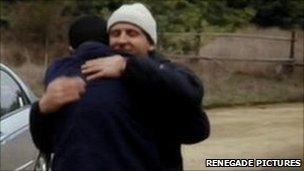 Seven years ago Mark Henderson was among a group of eight tourists taken hostage in Colombia by the National Liberation Army, known as the ELN.
Following his release he was contacted by one of his captors and the emotional meeting has led to a film which is set to have its first screening in Sheffield on Friday.
It was 11 months after his release in late 2003 that 38-year-old British TV producer Mark Henderson received word that one of his captors wished to contact him.
He communicated with 'Antonio' via e-mail until last year, when he was able to meet his kidnapper face to face.
It was a meeting that would bring back vivid and often painful memories of his 101 days in captivity.
Mr Henderson, from Pateley Bridge in North Yorkshire, had travelled to Colombia to visit a relative and was on a trek when he and the other hostages were seized at gunpoint near the 2,500-year-old Ciudad Perdida (Lost City) Indian ruins on 12 September 2003.
Their captors were members of the ELN, a revolutionary Marxist guerrilla group which has operated in the country since the 1960s.
The rebels said they kidnapped the men to publicise the persecution of Indian villagers by right wing paramilitaries, and not for a ransom.
One of the hostages managed to escape after 11 days, with two others released in November that year.
The remaining five, including Mr Henderson, were handed over to mediators in the Sierra Nevada mountains the following month.
He said his subsequent meeting with Antonio, who has left the ELN, helped bring him the emotional closure he needed, as well as providing answers to the questions he had wrestled with since his release.
"Antonio was the one who did not fit in with the others, and who I had struck up a relationship with," he said.
During their time in captivity the hostages were forced to walk for up to 18 hours a day, across 500 miles of dense jungle, sleep under strips of plastic and survive mainly on rice.
"There were times when I was lying in bed at night and I would think 'they are going to shoot us all'," he said.
"But I did not believe that we were going to die all the time - I could not have got through the day.
"It's only when you come back to the UK that things start to process in your brain and you think of what could have happened."
Mr Henderson, who would not reveal exactly where he met his captor, also returned to the Lost City in the Sierra Nevada valley with three of his fellow hostages.
Cameras were there for both events and Mr Henderson has made a film entitled My Kidnapper, which has its UK premiere in Sheffield on Friday.
"I thought there was an interesting way to tell this story," Mr Henderson said.
"It's about what's happened since to me, to the other hostages, to Antonio and to the people who took us, as well as raising awareness of human rights issues in the area."
Mr Henderson said during the meeting with the former ELN member, Antonio had explained why he had left the group and had apologised to him for what had happened.
"When I met him he told me that he had wanted to meet me face to face to give me all the information that I needed.
"I thought we would interview him for a few hours. We were there for seven hours.
"He told us how our kidnap had been planned, why some of us were separated, what they thought of us and the reasons why we were taken.
"I wanted him to know what we went through and what our family and friends went through."
He added that he had felt a huge sense of relief after the meeting.
"I had been building towards this meeting for years," Mr Henderson said.
"The kidnapping had ended physically, but emotionally and mentally it was still going on.
"I could put my questions to bed and close the book."
My Kidnapper is being shown at the Sheffield Odeon as part of the Sheffield Doc/Fest.
Related Internet Links
The BBC is not responsible for the content of external sites.