Councillors meet over Whitby bridge breakdown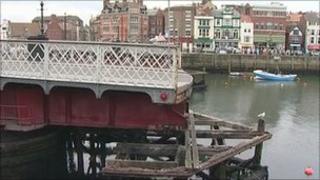 Councillors are meeting to investigate the breakdown of a swing bridge in Whitby which was stuck in the open position for more than a week.
The bridge in Whitby broke down in July - splitting the town in two, and leaving it out of action to motorists and pedestrians for nine days.
Councillors will meet on Friday to discuss the breakdown.
The bridge was fixed after Scarborough council had parts flown in from Italy, including a £25,000 gearbox.
While the bridge was closed the council stepped up the frequency of free shuttle buses to transport people to and from the east and west sides of the town.
Locally-run ferries were also operating between both banks of the river.