Protest held over North Yorkshire waste plant plan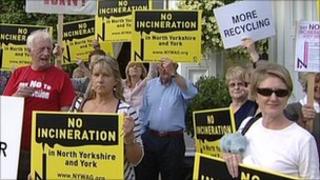 A protest has been staged outside a meeting discussing plans for a controversial waste incinerator in North Yorkshire.
The county council says the plant at Allerton Quarry on the A59 near Knaresborough and Harrogate will save 90% of waste from going to landfill.
Nearly 4,000 residents have signed a petition and a campaign has been started against the plans.
AmeyCespa has been named as the bidder to build and manage the waste facility.
A demonstration was held earlier while a meeting was held about the plans, which have yet to be decided on, at the Old Swan Hotel in Harrogate.
Protester Ingrid McLaughlin said: "We are protesting against the current North Yorkshire County Council proposal for incineration because we think it's an unnecessarily costly solution for diverting waste from landfill.
"How can they justify spending over £1.4bn when there are cheaper options that would create a greater number of jobs and are more environmentally friendly."