Father 'devastated' as charity ends £10k Claudia reward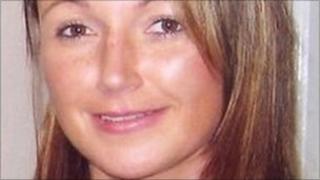 The father of missing chef Claudia Lawrence has spoken of his "devastation" after a £10,000 reward for information was dropped.
Crimestoppers said it had offered more rewards to the case than it had to any other in recent years but it could not afford to continue the offer.
Police will remove appeal posters from vehicles because they refer to the reward but they will be replaced.
Peter Lawrence said he was "devastated" the reward was not being renewed.
Miss Lawrence, from York, has been missing for 18 months.
Speaking outside his daughter's home in Heworth, Mr Lawrence said: "The impression everybody will get is the team is being wound down, posters are being removed, the reward is being removed.
"The impression people will get, unless the police say otherwise, is the investigation has been abandoned.
"The posters were the only visible sign of the police investigation."
Crimestoppers put up the reward for information leading to the conviction of those responsible for Miss Lawrence's disappearance shortly after she vanished.
The withdrawal of the reward comes weeks after police decided to scale back their suspected murder investigation.
Mr Lawrence, a solicitor, added: "I'm disappointed. I understand [Crimestoppers] is a charity and funds are limited.
"Personally I'm absolutely devastated the reward has not been renewed."
Police 'grateful'
Miss Lawrence, a chef at York University, who was 35 when she went missing, was last seen leaving her workplace in March 2009.
Mr Lawrence said searches for his daughter had ended and the police relied on the public phoning in any information.
He said he hoped the police would consider putting up new posters appealing for information.
"We keep going with the campaign. I hope one day somebody will come up with the information. I just feel she is alive."
Crimestoppers' rewards are offered for a period of three months and lapse automatically unless police make an application to renew.
North Yorkshire Police said: "We have managed to sustain their support much longer than perhaps other investigations would have and we have been extremely grateful for this.
"We were able to renew the £10,000 reward every quarter, however we were advised at the last renewal that this support would no longer continue."
'Equal sympathy'
In a statement, Crimestoppers said: "As soon as this case was declared a murder investigation, Crimestoppers immediately supported the police by offering £10,000.
"This case has had more Crimestoppers support with regards to enhanced rewards, than any other in recent years.
"Enhanced rewards are granted for three months at a time because as a charity we cannot afford to have rewards of such high figures open indefinitely.
"Within the past two weeks alone we have had five separate applications for enhanced rewards, all of which have been granted.
"These included crimes such as murder, robbery and assault. We must be fair to all cases and consider each case with equal sympathy."