Selby school cancels outside break in row over noise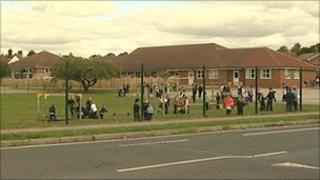 Children at a school near Selby have had a play break cancelled and hard ball games banned after neighbours complained to the council about noise.
Barlby Community Primary School has also put up a soundproof fence because it fears a noise abatement order.
The school said the decisions were "regrettable" but necessary to prevent the chance of a notice being served.
Some parents are unhappy about the move, which was also criticised by the organisation Play England.
The measures were put in place after some neighbours contacted environmental health officials.
The school's afternoon outside break has now been cancelled and other breaks have been staggered so fewer children are in the playground at the same time.
Parents were also told in a letter that hard ball games were being cancelled.
The move has alarmed some parents.
Kirsten Farndale said: "It's ridiculous. Why move next to a school. The school has been there a long time.
"They've put up a fence which cost a lot of money. I don't think they should have had to have done really, the money could have been spent elsewhere on educational things."
Elaine Spooner, who lives near the school, said the noise did not bother her.
"All you hear is children playing at break time. They are children, they are playing, they are at school."
Laky Sahota, of Play England, which promotes free play opportunities for children, said he was concerned that the decision was "not focused on the best interest of the child".
"They are not considering how important play is," he said.
'Regrettable decision'
"Children, on average, are only having 30 minutes of play during the day and that has an impact on their ability to plan and concentrate."
Suzanne Douglas, who is one of the school's governors, said: "It's a regrettable decision, it's one we did not want to make and we have given a lot of consideration to, but there is a possibility of an abatement notice being served on the school.
"To avoid this happening we are doing all we can to maintain the school as an operational primary school."
A spokeswoman for North Yorkshire County Council said it was aware of complaints made by some of the school's neighbours to the environmental health department at Selby District regarding "excessive noise".
"We are not satisfied that a statutory noise nuisance exists from what amounts to normal use of the school and playground areas," she added.
"Nevertheless we are taking these complaints seriously and wish to maintain good relationships with local residents."
She added that an assessment of noise levels would be taking place over the next month.