Wild geese droppings pose park problem in York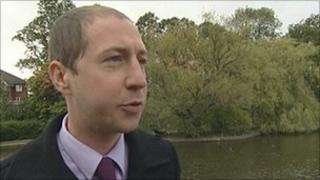 New ways of controlling the amount of wild Canada geese in one of York's most popular parks are to be introduced after complaints from visitors.
Droppings left by the large goose population in Rowntree Park and the birds' intimidating behaviour sparked calls for action.
York City Council looked at a number of measures, including the use of falcons or dogs to try to keep the geese away.
Culling the geese was considered, but later rejected.
Councillor Nigel Ayre, of York City Council, said: "We decided we would look at a variety of methods, all non lethal, such as introducing animals to the area to try to make the geese less welcome, such as falcons and possibly the use of dogs."
Tom Lawson, local ornithologist, said: "The geese basically have no predators, nothing destroys them or damages them and the conditions around here are very satisfactory for the geese to breed.
"They can find some nice nesting spots and plenty of good food and water.
"This is why the numbers here are increasing."
Other methods York City Council may try as a way to discourage the geese from the park include fencing off nesting sites and putting up signs to stop people from feeding them.