Anger over cannabis drug denial for Whitby MS woman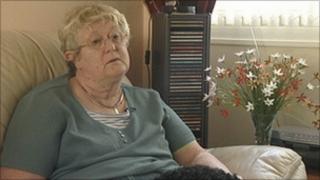 A woman with multiple sclerosis (MS) has criticised a decision which means she has to pay £445 a month for a drug to ease her condition.
Sheila Clarke, from Whitby, uses the cannabis-based drug Sativex, which has been licensed for NHS use.
It is available in some parts of the country but health trusts in Yorkshire do not fund it because of concerns over its cost effectiveness.
Ms Clarke said: "One day my savings will run out and I'll go back to pain."
Sativex was licenced by the Medicines and Healthcare Products Regulatory Agency in June and is available from some health trusts.
However, a panel of regional experts in MS have said there is no compelling evidence of benefits to patients from the drug and decided primary care trusts in Yorkshire cannot prescribe it.
Ms Clarke's doctor Rory Newman said: "Before she tried it she had been having a great deal of pain, a lot of problems particularly with spasms around her neck and shoulder and it became clear quite quickly that the Sativex was helping a lot with this... she was much more comfortable and her quality of life improved."
Ms Clarke said she was upset that she was unable to get the drug from her health trust NHS North Yorkshire and York.
"They say the benefits are not outweighed by the cost. How do they know this, they don't have MS, they don't have the symptoms so they couldn't know it."
Scarborough and Whitby MP Robert Goodwill said: "In other parts of the country it is being prescribed and I think we need to make sure that people who pay the same taxes wherever they live in the country get a similar service from the NHS."
In a statement, NHS North Yorkshire and York said it did not "routinely fund the prescribing of Sativex for patients with multiple sclerosis symptoms including spasticity and pain".
It continued: "This is the agreed regional policy across 14 PCTs within Yorkshire and the Humber and has been in place since March 2004.
"The panel concluded that Sativex lacked compelling evidence of benefit for the target population and was unlikely to be cost effective for use within the NHS."