York choirgirl Isabel Suckling lands record deal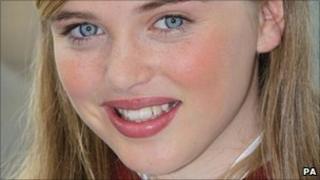 A 12-year-old York girl is believed to have become the first female chorister to land a major record deal.
Isabel Suckling, a choirgirl at York Minster since 2006, is being mentored and managed by former teen star Aled Jones, who found fame 25 years ago.
He said: "I've always been interested in soprano voices and I heard that there was a pretty special girl in York so I went and investigated it further."
Record company Decca said she was the first choirgirl to sign a major deal.
Celebrating the record deal, Isabel said: "It's really exciting, it hasn't quite sunk in but it is an amazing opportunity."
Label bosses are now styling her as The Choirgirl, ahead of the release of her debut album later this year.
She will also be put up as a challenger for the Christmas number one when she releases a cover of Michael Jackson's You Are Not Alone in December.
For hundreds of years female choristers were not admitted to cathedral choirs and their acceptance has been a relatively recent development.
A Decca spokesman said signing her was "an important turning point in recorded music".
Isabel won her deal after a nationwide search by the label.
Dickon Stainer, president of Decca Records Group, said: "When I was a chorister, it was still boys only. Today marks the start of girl power for choristers."
Lennon's Imagine
Jones, who became a chart star in 1985 through his recording of Walking In The Air, said: "On hearing Isabel's voice I wanted to be involved in nurturing her special talent.
"She has such a great quality and I am very pleased to play a small part in enabling her to reach a wider audience."
Choirmaster Gareth Malone, who is currently hosting his Extraordinary School For Boys series on BBC Two, has written a new track, Lux Aeterna, for her album, which also features a version of John Lennon's Imagine.
Her first single will raise money for charity Age UK.