North Yorkshire council plans to cut bus services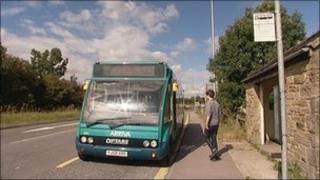 Bus passengers in North Yorkshire have attacked council plans to cut evening and weekend services.
North Yorkshire County Council is consulting on proposals to scrap evening, Sunday and bank holiday buses on dozens of rural routes.
It also wants to restrict the use of concessionary bus passes to after 0930 BST. It currently runs from 0900 BST.
The council said the changes would save about a million pounds in response to the government funding squeeze.
Other local authorities such as Durham County Council, Northumberland and Cumbria are also expected to look for savings from their transport budget.
But passengers say cutting buses could leave them stranded.
Student Chris McMullon, who lives in the North Yorkshire village of Middleton Tyas, needs to travel eight miles to college in Darlington.
The 18-year-old said cutting evening services would affect his education and social life.
'Minimum impact'
"There are afternoon sessions in college that finish after seven and it's going to affect that," he added.
He said it would also have an impact on older people who travelled by bus to get their shopping and visit relatives.
North Yorkshire County Council said the cuts would only affect a minority of customers and the impact on passengers would be kept to a minimum.
Its assistant director Richard Owens said: "It's important that we look at everything and we have spent quite a lot of money on the public transport service - six-and-a-half million across the whole of the council," he said.
Business worries
"And that area of spending has to make its contribution, so it was important we identified those areas which minimised the impact."
However there is concern fewer buses will mean less custom in shops and cafes.
Kath Muir, who owns the Cross View Tea Room in Richmond, said the cuts would affect business, as elderly customers often came in by bus from outlying villages.
"I think public transport should be encouraged rather than discouraged," she added.
: For more on this, watch the Politics Show North East and Cumbria, on BBC1 on Sunday from 1100 BST.