Police warn bikers after five deaths in two weeks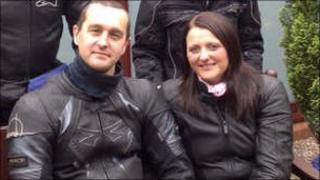 Police are warning bikers in North Yorkshire to take care after five deaths on the county's roads in the last two weeks.
The warning by senior officers comes ahead of this weekend's Superbike Championship at Croft, which will be attended by thousands of bikers.
Since the start of the year 16 bikers have died on North Yorkshire roads.
Deputy chief constable Adam Briggs said this was already higher than last year's total of 15 deaths.
Among those who lost their lives on the roads over the last 14 days were Dean and Helen Slater.
The couple, from Thornton, Bradford, died when their motorbike collided with a car near Tadcaster on 25 August.
On the same day a John Fraser, 73, from Darwen, Lancashire, died when his bike collided with a trailer near Austwick.
'Needless' deaths
Thomas Hodgson, 26, from York, died on 30 August when his motorbike collided with an Audi on the York ring road.
The fifth victim was Mark Chadfield, 34, from Darlington, whose bike crashed with a 4x4 car between Swinithwaite and Aysgarth on 3 September.
Mr Briggs said: "We simply do not want another needless and preventable death and all the heartache that goes with it.
"Therefore I am pleading with motorcyclists, the vast majority of whom are safe and sensible riders, to please take care and ride safely.
"Think of your families and the effect it would have on them if you left for a great weekend, but did not return home."