Memorial held for fire death jockeys in North Yorkshire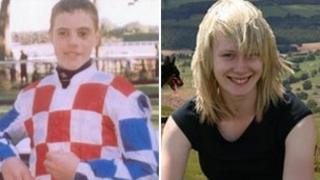 A memorial service has taken place to remember two apprentice jockeys killed in an arson attack in North Yorkshire.
Jamie Kyne, 18, from County Galway, in the Irish Republic, and Jan Wilson, 19, from Forfar in Angus, died in the fire at flats near Malton in September 2009.
Peter Brown, 37, of Brotherton, North Yorkshire, was found guilty of manslaughter and is expected to be sentenced later this year.
The service was held at St Leonard's and St Mary's Church in Norton.
It was led by Father Tim Bywater. He said: "The first anniversary of any tragedy is a difficult time for those involved.
"I think part of our celebration will give people the opportunity to reflect about what happened and the months after, and how people have come to terms with it in different ways."