North Yorkshire 'well-placed' to weather economic storm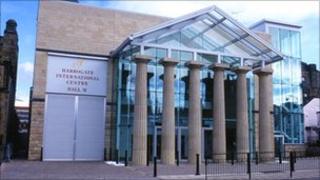 Large areas of North Yorkshire are among the best-placed in England to weather economic storms, according to research commissioned by the BBC.
The Experian study ranks the 324 English councils in terms of their resilience to future economic shocks, such as public sector cuts.
Harrogate, Ryedale, Hambleton and Richmondshire are all among the top third of the most resilient places.
In contrast, Scarborough is ranked 207th out of the 324 areas in England.
Selby and York rank 123rd and 156th respectively.
The research aims to show the ability of areas to withstand and respond to shocks such as job cuts.
But it does not indicate the areas which will suffer the biggest public sector cuts after the government's October spending review.
Business leaders in North Yorkshire have expressed concern about the potential impact of the spending review.
Susie Cawood, head of the York and North Yorkshire Chamber of Commerce, said: "Members are worried, of course, but I personally think we're well-placed to withstand the impact of the cuts because we've got a mixture of industries in North Yorkshire.
"The majority of our members have had to make cutbacks, some have even gone out of business, but there are also businesses, generally large-scale operations, that are doing well."
Researchers looked at resilience across four areas - business, community, people and place - and considered 33 factors.
They included the strength of the business base, the education and skills of the workforce, house prices, crime levels and the level of benefit claimants.
They found that North Yorkshire was home to a high proportion of businesses operating in "resilient sectors" such as agriculture, forestry, fishing, banking and insurance.
The conference town of Harrogate ranked highest (50 out of 324) in terms of overall business resilience.
The town is also bolstered by the fact that it has the highest average house prices in the region and some of the best GCSE performances in England (3rd out of 324).
Meanwhile, Scarborough, Selby and York all fell into the bottom half of the rankings for business resilience - with York scoring 209th out of 324.
Scarborough has the lowest ranking for the whole of England with respect to the number of businesses in high-growth sectors, such as knowledge-intensive business services and high-tech manufacturing.
Selby, which boasts the highest number of new business start-ups in North Yorkshire, also has one of the highest levels of insolvency in England (24th out of 324).
Spending Review: the Look North debate is on BBC One on Thursday at 2235 BST, presented by Harry Gration. Radio York phone-in on Friday from 0900 BST.