Couple's anger at BA after cat 'lost' at airport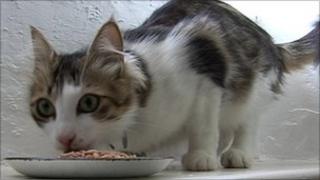 A couple has criticised British Airways' handling of pets after their cat was lost for several hours at Athens airport.
Kit and Megan Peel had been living in Greece when they decided to return home to Pateley Bridge in North Yorkshire with their cats Spartacus and Tancredi.
The couple claim BA's handling area was unsuitable after Spartacus broke free and bolted through a window.
BA said it had received accolades for its handling of animals.
Mr Peel was travelling to Heathrow Airport and had arranged for the cats to travel on BA Cargo, paying more than 700 euros for pet tickets.
Mr Peel said he was in a room with open kiosk-style windows holding the cats while their cage was x-rayed when Spartacus became scared and broke free, running off into a busy cargo area.
"There was a motorway on one end, there was an airport on the other end, there were lorries being unloaded. It was about the worst possible place you can imagine to lose a cat."
Mr Peel flew home with Tancredi while the couple's Greek friends travelled to the airport to search for Spartacus.
He was eventually found hours later at the side of the motorway.
Mr Peel then flew back to Athens the next day to collect Spartacus and bring him safely to the UK.
'Traumatised'
"He was traumatised but all right... at no time did any BA staff member in Athens apologise for the loss of Spartacus.
"While we're delighted Spartacus is safe and sound now, my wife and I have been stunned by British Airways' reaction.
"BA has denied liability for the loss of Spartacus in Athens and have refused to compensate me for the British Airways flights I took to retrieve him."
In a statement, BA said: "Our staff at Athens airport searched for Spartacus for 45 minutes and used the cat's favourite food to try and lure him back.
"We were delighted he was found safe the next day and flew him to London without charge.
"BA carries thousands of pets on our global network each year and our cargo team in Athens has received accolades for their handling of animals."
The couple have now set up a Facebook group called Justice for Spartacus to get better facilities for pets on airlines.