Survey to map out bats' habitats in North Yorkshire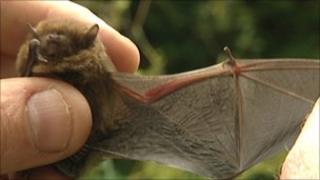 More than 200 bat boxes in North Yorkshire's woodlands have been stirred up as part of a survey to map how the species live locally.
Forestry Commission conservationists are carrying out the work at woods including Dalby Forest near Pickering and Wykeham Forest near Scarborough.
Experts said checking boxes meant they could note any new species found.
There are 17 species of bat in the UK, all protected by law because their numbers have decreased so dramatically.
The Forestry Commission said until recently eight species were known to exist locally - the Common and Soprano Pipistrelle, Noctule, Natterer's, Brown Long Eared, Daubenton's, Whiskered and Brandt's.
Earlier this year researchers said they discovered another species, the tiny Alcathoe's bat in the North York Moors National Park.
Brian Walker, Forestry Commission wildlife officer, said: "Many of our woods are real bat hotspots and have become a centre of research.
"Checking boxes is best way to find out more about how the creature is faring.
"Most of the babies will have left by now so we are not disturbing young families."