Swing bridge reopens in Whitby after gearbox failure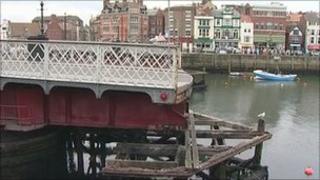 A swing bridge in a North Yorkshire town is back in working order after being stuck in the open position for more than a week.
The bridge in Whitby broke down last week - splitting the town in two.
Scarborough Borough Council had specialist parts flown in from Italy to enable engineers to install a new gearbox.
It was envisaged the bridge would be in working order for Friday evening, but it was already in use by lunchtime.
While the bridge was closed the council stepped up the frequency of free shuttle buses to transport people to and from the east and west sides of the town.
Locally-run ferries were also operating between both banks of the river.
The council said that as well as the replacement parts it had also ordered replica parts from Italy as part of a contingency plan, should there be any future problems.
It said the total cost of the parts ran to about £25,000.