Flood-hit Pickering to get £800,000 defences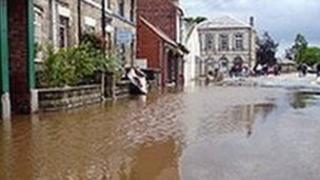 Campaigners have welcomed a decision to build flood defences in a North Yorkshire market town.
Pickering has flooded several times since 1999 and residents had called for protection from future incidents.
Ryedale District Council has agreed to spend £800,000 on two embankments to hold back water from Pickering beck.
The Ryedale Flood Research Group said the council's decision was a "step forward" after the Environment Agency scrapped plans for defences in 2004.
The 2004 plans were cancelled after estimates for the cost of the scheme spiralled from an original £1.7m to almost £7m.
Mike Potter, of the flood research group, said: "We've managed to get a scheme on the ground, we've managed to get the funding for it actually approved.
"We will have a small celebration but until I see something built up there we'll reserve the main celebrations."
The Environment Agency will contribute a further £150,000 towards the scheme. Work will start early next year.