York Minster and railway museum funding hopes dashed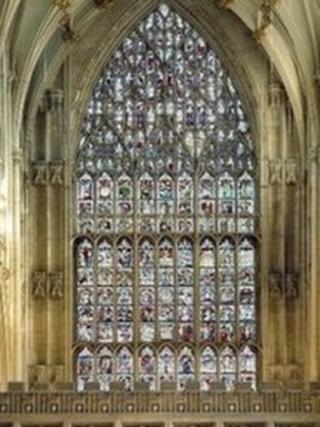 Two popular tourist attractions in York have been told they will no longer be getting £7m of funding for projects.
The government's decision to scrap regional development agencies means Yorkshire Forward has stopped negotiations on funding applications.
A £1m grant towards the restoration of York Minster's Great East Window will no longer be given.
And the National Railway Museum will have to find £5m towards the revamp of its Great Hall.
The Great East Window at York Minster is thought to be the world's largest medieval window. It was completed in 1408 and has been valued at £27m.
It was removed from the east end of the minster in 2008 and its restoration is expected to take 10 years to complete.
John Morris, chapter steward at York Minster, said the decision was disappointing but he was confident alternative funding could be found.
Revamp hopeful
He said: "£1m is a large gap to fill but there continues to be generous support from the people of Yorkshire and we are optimistic alternative funding will be found for this building, which is so important to the region and the nation."
The railway museum said it was hopeful it could go ahead with the £21m revamp of the Great Hall despite losing a quarter of the funding.
Director Steve Davies said: "We watch with interest and are working hard to ensure that we don't lose the other government-committed money.
"We can live with Yorkshire Forward withdrawing, although we are working significantly hard to close that gap.
"Life would become a little more complex if other government money did not come our way."
Andy Tordoff, assistant director of environment at Yorkshire Forward, said: "The restoration of York Minster's Great East Window and the refurbishment of the National Railway Museum's Great Hall were both projects Yorkshire Forward was looking to pursue.
"We worked with both projects to develop comprehensive business plans, but due to financial restrictions both projects were not able to progress to final sign off and approval for investment."