Wiltshire pub to stay open after Levelling Up cash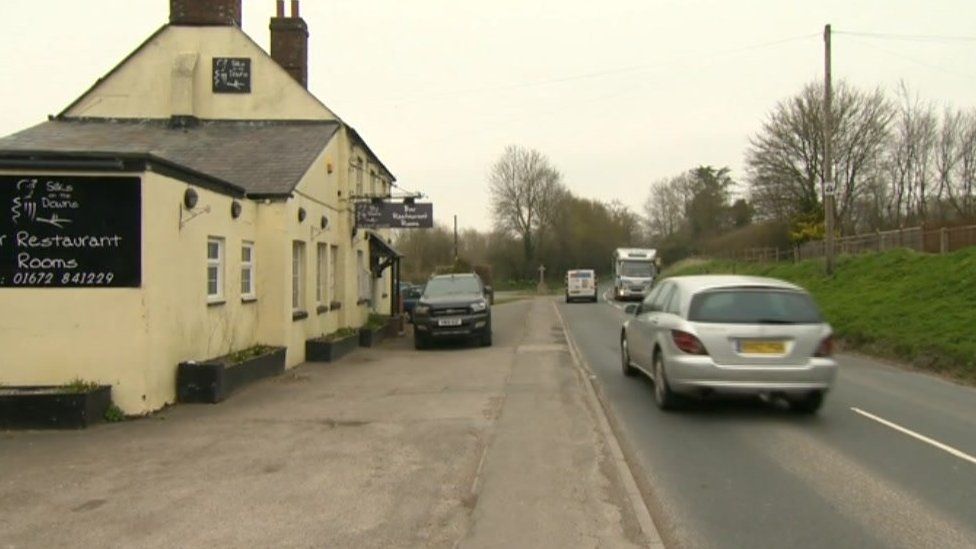 A Wiltshire community has become one of the first to win government funding to help take over the local pub.
Campaigners in three hamlets near Marlborough raised almost £250,000 to help save The Silks on the Downs pub after it shut during the pandemic.
This has been matched by the government under its Levelling Up funding.
John Hetherington, chairman of Ogbourne St Andrew Parish Council, said: "We were very pleased with the response we had.
"We got nearly a quarter of a million pounds just from local contributions.
"And the fact that we have now got matching funding through this grant is amazing. It's tremendous."
Roger Harris was born in the pub in 1949 - when his parents ran it and it was called the Wheatsheaf.
He now lives in Marlborough, but said in the 1950s the pub had been key to the community, including hosting the annual village outing.
He explained that the village had already lost its school, shop and post office and was "in danger" of losing its pub.
"I think my mum and dad would have been delighted that there's a future [for the pub]," he said.
Despite the funding, Stuart Williamson, chairman of the Ogbourne Community Pub Society, said it still needed to be run as a business.
"We need to make a profit, we need to be successful," he said.
"We don't need to maximise our profits - we need to make enough for the pub to be thriving and for it to invest back in [to the community]."
But he said that ownership "gives us a really sustainable long-term future".
Announcing the £237,500 of funding, Levelling Up Secretary Michael Gove said pubs - along with other community assets - "form a vital part of our heritage".
"That is why we are helping local people take control of these beloved community assets, which would otherwise be lost," he added.
"This sits right at the heart of our vision for levelling up - giving people the power to make positive changes in their local community and restoring pride in the places where the live."