Wiltshire antique expert unearths rare Georgian candlesticks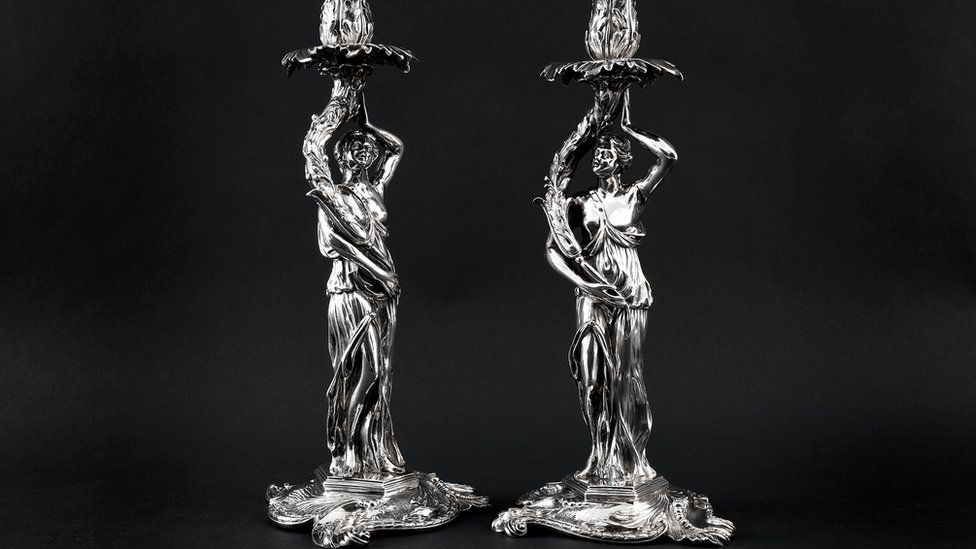 An antiques expert has unearthed a pair of rare candlesticks made by Royal silversmith Thomas Heming.
Gordon Brockman said the candlesticks were two of only around six that were made and could be worth up to £80,000.
Thomas Heming was principal goldsmith to King George III between 1760 and 1782, and the candlesticks feature a crown to denote his Royal position.
"I turned it over and saw the mark with a crown above it and my heart almost stopped," said Mr Brockman.
Their significance was not immediately obvious when he was handed one of the candlesticks as a prop for a talk, he said.
"My first thought was that it wasn't even silver as it didn't feel like it had the right weight," he said.
But after spotting the Royal mark, Mr Brockman researched its origins and said he found it had been made by Thomas Heming in around 1770.
He said: "I knew the mark made it significant so I contacted the Wiltshire owner to find the family had two.
"With the family's permission, I've been working on researching the candlesticks ever since and I now know they are two of only a small number, possibly six, made by Thomas Heming.
"I believe this remaining pair in Wiltshire are worth up to £80,000 at auction and their insurance value would be around £250,000."
Mr Brockman said the candlesticks had been in the same family for many years, though they are unsure how they first came to own them.
The owners, who wish to remain anonymous, said they were not looking to sell but would offer them as a long-term loan to a museum.