Wiltshire girl inspires superhero book for Muscular Dystrophy UK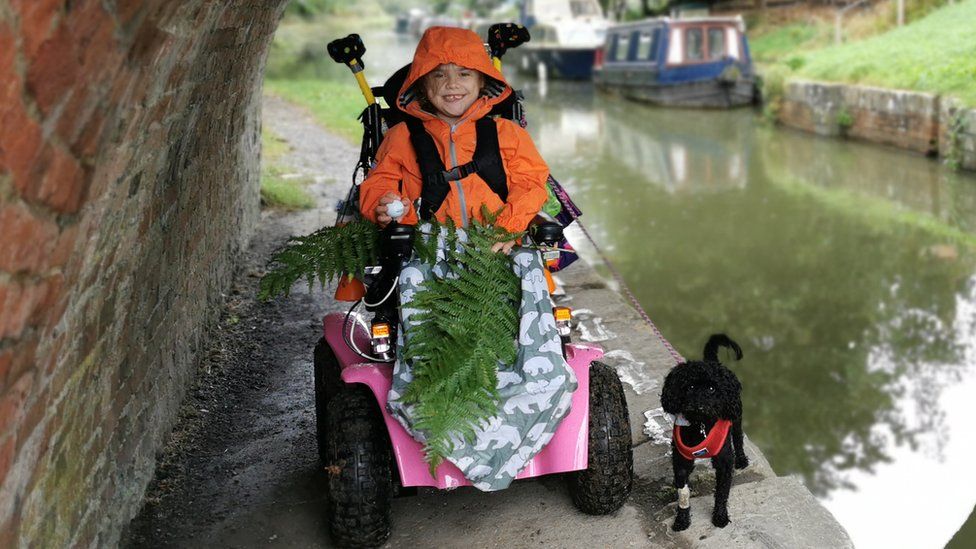 A seven-year-old with a life-limiting condition has been turned into a superhero for a children's book.
Her mum Lucy Chillery-Watson wrote Wonder Girl Carmela and Tinker the Stinker after her daughter told her she often dreamed of having super powers when she was asleep.
Carmela said: "When mummy reads me my story I feel strong and like I don't have muscular dystrophy any more."
Funds from book sales will be donated to the charity Muscular Dystrophy UK.
Ms Chillery-Watson said her daughter's "special bond" with her therapy dog was celebrated in the book.
She said: "My husband and I bought Tinker to help with Carmela's loneliness, to take her mind off her very rare condition and to comfort her when sad."
Carmela's rare condition, LMNA-CMD, means she has severe pain and discomfort.
Children with the condition rarely live beyond the age of 20.
Carmela said her therapy dog made her "smile" when she does not feel well.
She said: "I hope that lots of people buy mummy's book to help other children like me who have these horrible muscle-wasting conditions."
Carmela's family has raised more than £55,000 for the charity Muscular Dystrophy UK over the years by walking the equivalent of a marathon every day for a month while dressed as Wonder Woman.
The efforts also attracted the attention of Hollywood actress Gal Gadot who donated thousands of pounds to Carmela's fundraiser.
Related Internet Links
The BBC is not responsible for the content of external sites.