Stonehenge tunnel: Campaigners raise funds for legal challenge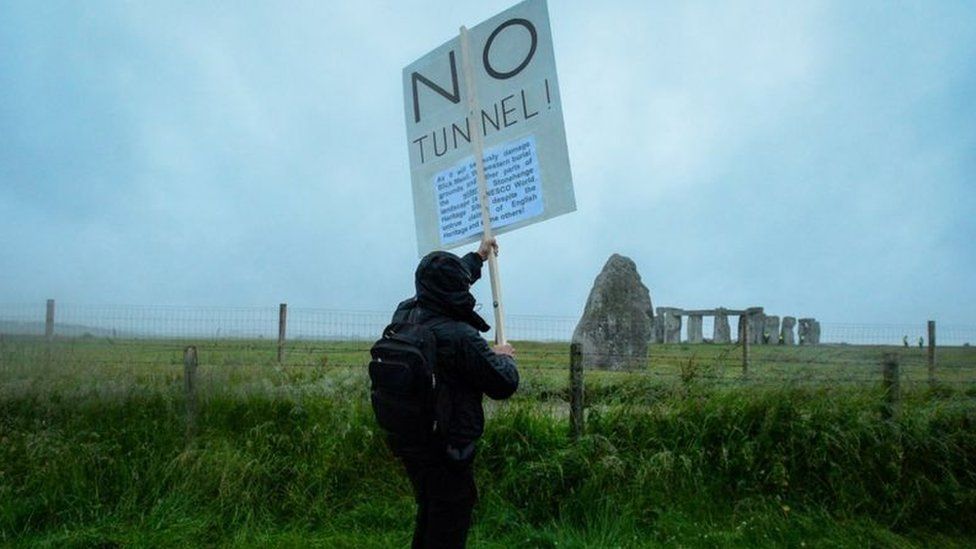 Campaigners who want to challenge a decision to approve a road tunnel near Stonehenge have reached their fundraising target.
Save Stonehenge World Heritage Site (SSWHS) has raised £50,000 in order to apply for a judicial review of the government's decision to grant consent.
The group is worried the work will have a detrimental impact on the wider Stonehenge World Heritage site.
A judge is due to decide whether they have a case in the New Year.
Transport secretary Grant Shapps approved the scheme in November, against the recommendations of planning officials.
Kate Fielden, the secretary of SSWHS, said the group was "very pleased" with an "amazing response" that meant it had reached its fundraising target in a month.
"What is quite moving is the sums contributed have come from more than 2,000 people, so generally [the donations] are not very large amounts," she said.
She accused the government of "ignoring concern about our heritage".
Inspectors had recommended the tunnel should not be allowed. But the Department for Transport said the "case for the development", along with other benefits, "outweigh any harm".
Its online fundraising appeal said raising £50,000 could "give us a fighting chance to stop this wanton vandalism of one of the world's most iconic heritage sites".
The tunnel is part of a £1.7bn investment in the A303 between Amesbury and Berwick Down.
The road, which is a popular route for motorists travelling to and from the South West, is often severely congested on the single carriageway stretch near the stones.
Highways England said it "remains confident" that the scheme is the "best solution for tackling a long-standing traffic bottleneck" and will boost the south-western economy.
A spokesperson added: "Ultimately, by removing the existing road we will return the Stonehenge landscape to something like its original setting."
Work on the two-mile (3.2km) tunnel is set to begin in 2023.
Related Internet Links
The BBC is not responsible for the content of external sites.