Magna Carta: Mark Royden jailed for attempted theft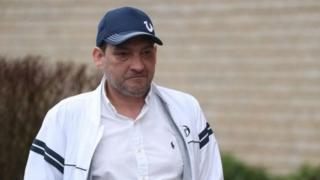 A man has been jailed for attempting to steal a "priceless" version of Magna Carta from Salisbury Cathedral.
Mark Royden was sentenced on Friday at Salisbury Crown Court to four years for the attempted theft, which took place in October 2018.
The 47-year-old used a hammer to smash a protective case around the 805-year-old document but failed to take it.
Judge Richard Parkes QC said: "This was a determined attempt on a document of huge historical importance."
Royden, from Canterbury in Kent, was found guilty of attempted theft and of causing criminal damage, costing £14,466 to repair, in January.
The trial heard that Royden scoped-out the cathedral for a route avoiding CCTV cameras and came equipped with a hammer, gloves and safety goggles.
After his attack on the display case he was pursued and detained by "good-spirited" members of the public, including American tourists Matthew and Alexis Delcambre.
The judge praised the visitors and staff who apprehended Royden, and called on the High Sheriff of Wiltshire to make awards of £1,000 to Mr Delcambre and £500 to cathedral employee Gary Price.
He said: "This is a story of a few good people acting alertly and bravely and they deserve our sincere thanks."
Prosecutor Rob Welling said Royden made an "odd prepared statement" to police during which he "doubted the authenticity" of Magna Carta.
Nicholas Cotter, defending, said that a serious car accident in 1991 had "tragically" affected the defendant, causing brain damage and leading him to be subject to a court of protection order over his finances and requiring a carer.
He added: "He has become a pest and a pain, mired in drink and drugs, heroin has been the drug of choice and alcohol has blighted him."
Salisbury Cathedral's version of Magna Carta is one of four that remain in existence from the original 1215 charter.
Sentencing Royden, the judge said: "Magna Carta is a document of huge importance to our country and many other countries that share our democratic traditions."