Man arrested after shots fired at police in Swindon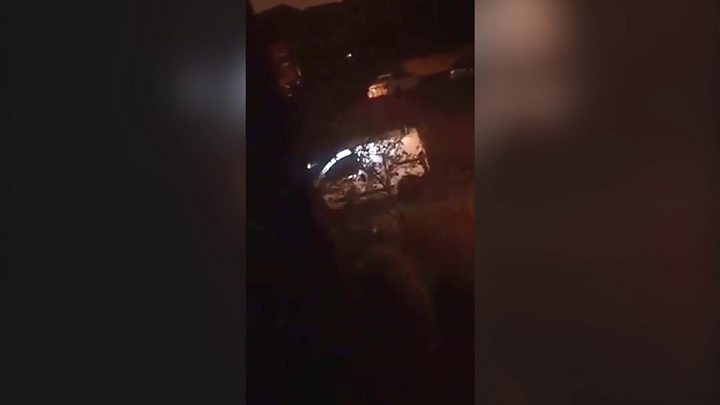 A man has been arrested after a weapon was fired at police from a building in Swindon.
Armed officers were called to Darling Close, Lower Stratton, at about 19.30 BST on Wednesday.
They found a man pointing a weapon and then shooting at them, Wiltshire Police said.
A 31-year-old man has been arrested on suspicion of possession of a firearm, criminal damage and assaulting an emergency worker. No-one was injured.
A police spokesman confirmed officers discharged a "less lethal" baton gun, and the force has referred itself to the Independent Office for Police Conduct (IOPC).
A woman fell ill outside the property and was taken to hospital due to a "medical episode", not as a result of of an injury sustained during the shooting, the spokesman added.
People nearby were asked to remain inside the Dockle Farmhouse and New Inn pubs during the incident.
Luke Twine, who lives in the area, said he noticed what appeared to be a gun at a window.
'Quite a shock'
"We realised what it was and ran back into the house. Within five seconds there were flashing blue lights and gunshots went off. It was quite a shock," he said.
Mr Twine, 22, said about 20 shots were fired over a two-hour period.
"All the glass in the windows of the house opposite were broken. It was quite scary," he added.
"I was nervous about going out this morning, and when I did there was glass all over the road."
Insp Andy Bridge said: "Last night's events were clearly shocking and worrying for everyone involved - both the people living in the area and the emergency services who responded.
"Luckily, nobody was injured as a result of the incident and officers were able to resolve the situation relatively quickly."