Life sentences for child rapist Peter Daniels 'too lenient'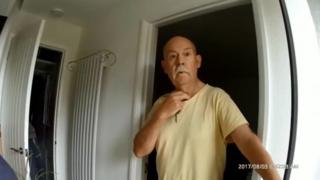 Six life sentences handed to a prolific sex offended named "Uncle Peter" have been branded as "lenient".
Peter Daniels, 70, who is already serving a 12-year term for rape and other sexual offences, admitted 78 charges involving 22 children.
Police and Crime Commissioner for Wiltshire and Swindon Angus Macpherson said the sentence does not reflect the seriousness of the crimes.
The Attorney General has said the PCC could ask for it to be reviewed.
Mr Macpherson says he has spoken to the Solicitor General, Robert Buckland MP, to seek guidance and will be writing a formal letter to him, expressing his concerns.
Daniels, from Wiltshire, used the persona of "Uncle Peter" to win the trust of parents and their children, and his victims in the latest case were aged between two and 13.
A judge at Winchester Crown Court said he had "never encountered sexual abuse on such a relentless scale".
Mr Macpherson said: "I feel the sentence handed down may be unduly lenient.
"It certainly does not reflect the public view on the seriousness of this man's despicable crimes and what he put his young, innocent victims and their families through.
"Six life sentences may seem enough but in real terms he could serve a maximum of 18 years and be out after just nine years; this falls way below the expectations of the victims, their families and the general public."
As well as the six life sentences, Daniels was handed 72 jail sentences ranging from four months to 16 years which will run concurrently.
A spokesperson for the Attorney General said: "The Solicitor General spoke to Angus Macpherson at an event last week.
"He informed him that if he had concerns about Peter Daniels' sentence he could ask for it to be reviewed under the Unduly Lenient Sentencing scheme. We haven't had a referral in to review this sentence."