Marlborough crash plane was in 'high-speed nose dive'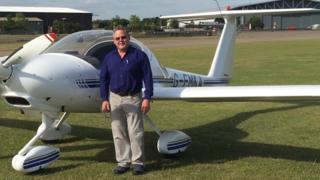 A light aircraft was at "high-speed in a steep nose-down" dive when it crashed killing two men, an accident investigation report has said.
Gordon Davis, 66, from Gloucester and Paul Gunnell, 55, from Guernsey died in the crash at a farm near Marlborough, Wiltshire, in July.
The Air Accident Investigation Branch said the crash was "not survivable".
It is thought a stall caused a loss of control, but the investigation was unable to determine why this happened.
The report said the flight was "for the aircraft owner to undergo a biennial refresher training flight with an instructor to revalidate his class ratings".
The instructor had carried out three training flights earlier in the day, but the flight in which the crash took place was the first time he had flown in a Super Dimona - the type of aircraft that crashed.
A witness said the plane, in the seconds before it crashed, was "spinning around one wing and looked very nose‑down".
The report said the instructor "was not qualified to be pilot in command or give instruction" and recommended that advice should be issued to warn instructors before taking on training.