War memorial designed by prisoners at Erlestoke is unveiled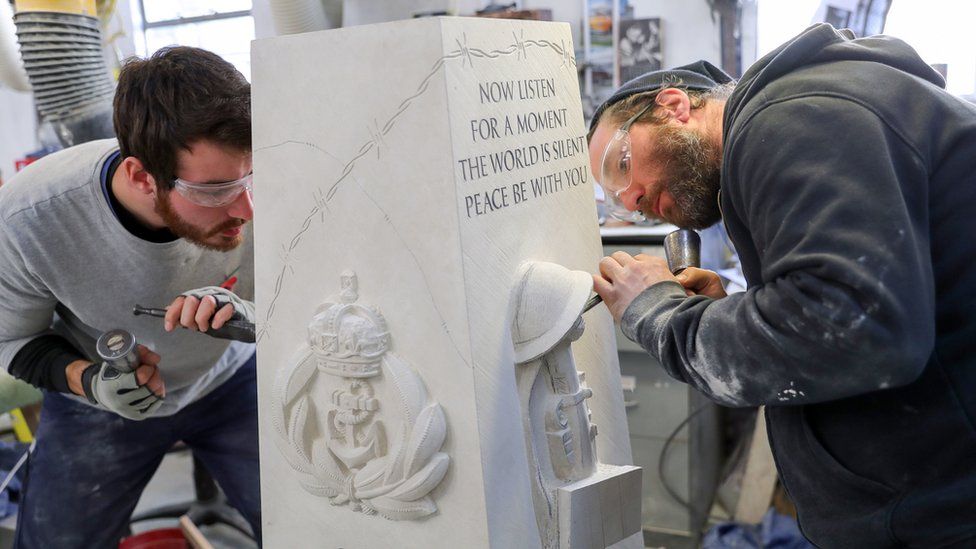 A memorial created by prisoners marking the centenary of the end of World War One has been unveiled.
Inmates at Erlestoke Prison in Wiltshire designed the 4ft high memorial, which was carved by stonemasons at Salisbury Cathedral.
The memorial was blessed at a special ceremony by the Dean of Salisbury, the Very Reverend Nicholas Papadopulos.
"I am incredibly proud of what has been achieved by the prisoners and our masons working together," he said.
The badges of the Army, Navy and Royal Air Force have been carved on the monument, with the words land, sea and air inscribed beneath.
A gun with a helmet is on the fourth side of the structure, under the quotation: "Now listen, For a moment, The world is silent, Peace be with you".
The monument will sit on a lawn in the visitors' area and will be passed by inmates at the Category C prison as part of their daily routine.
Dean Nicholas, who worked as a barrister specialising in criminal law before joining the church, said: "It is very easy to regard prisoners as 'out of sight and out of mind', and to leave the job of rehabilitation to others.
"But we all must take responsibility for the society in which we live, and strive to make it better.
The memorial is part of a wider prisoner-led project at Erlestoke.
Tim Knight, governor of the prison, said: "We hope that by offering prisoners opportunities to participate in projects like this we can assist in their rehabilitation."
Related Internet Links
The BBC is not responsible for the content of external sites.