Bat stuck on fly paper freed with butter on cotton buds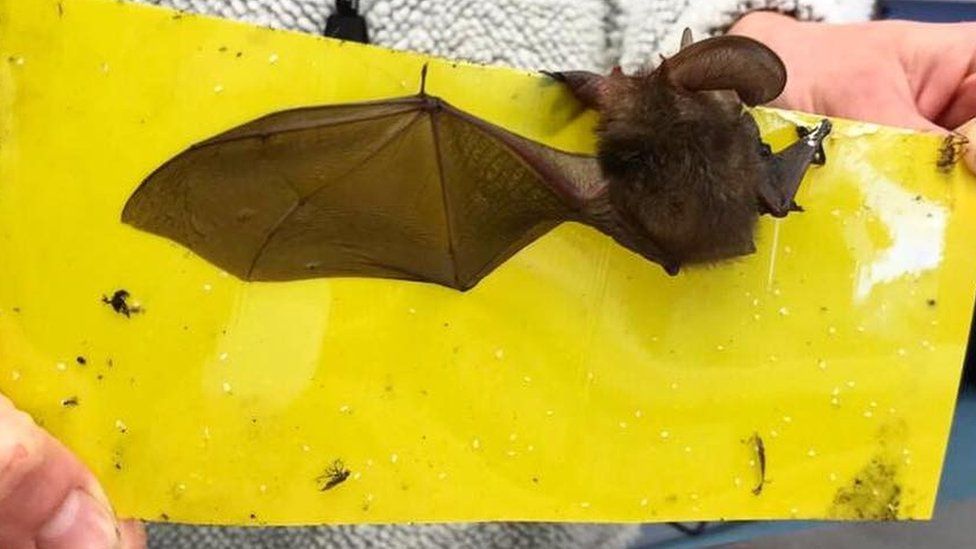 A tiny bat that got stuck on fly paper was rescued thanks to cotton buds and a tub of spreadable butter.
The brown long-eared bat, which weighed just nine grams, was found stressed, stuck and "sore" after flying face first into the sticky trap.
Staff at Wiltshire's Oak and Furrows Wildlife Rescue Centre managed to "painstakingly" release the bat using cotton buds covered in butter.
Carer Jess Ostler said: "He had a tiny bubble bath but was quite grumpy."
The 3in (7.6cm) long bat was found "completely stuck" to the sticky fly trap hanging in an outbuilding on a private estate in Wiltshire.
"He'd flown straight into it - face first - with his wings outstretched," said Ms Ostler.
"He hadn't been there for more than 24 hours but his wings were stuck and all around his face was sore and missing fur where he'd managed to yank it off the fly paper a bit."
Using butter and cotton buds, animal carers at the centre in Cricklade spent "many painstaking hours" removing the tiny "biting" creature from the trap.
"They're so delicate and he was stuck on so hard we weren't sure we could get him off successfully," said Ms Ostler.
"But we rubbed loads of spreadable olive butter around where he was stuck and managed to prise him off and he had a tiny bubble bath to remove the butter."
Nicknamed Gluey, the bat has now been released close to where he was found.
"We didn't think he had much chance of surviving," a spokesman for the centre said.
"So we were absolutely ecstatic to be able to release him back into the wild for a second chance."
Related Internet Links
The BBC is not responsible for the content of external sites.