Stonehenge: A ruin to a treasure in 100 years of public ownership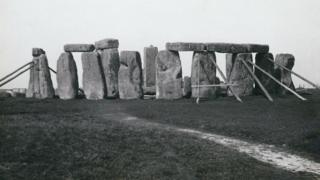 It may be hard to imagine now but at the start of the 20th Century much of Stonehenge was propped up with wooden poles and parts were in danger of collapse.
The ancient stone circle had been privately-owned by the Antrobus family who had looked after it since the early 19th Century. But they put it up for auction in 1915.
It was bought for £6,600 by Cecil and Mary Chubb, who gave it to the nation 100 years ago - on 26 October 1918.
Kate Mavor, English Heritage's Chief Executive, said their "generosity saved Stonehenge and transformed it from a neglected ruin to a national treasure".
"Their gift started a programme of care and conservation for the ancient stones and the surrounding landscape, one that continues today," she added.
Mrs Chubb received a legacy in 1905 of £100,000 - the equivalent of nearly £8m today. Her husband used part of this money to buy the Stonehenge site at the auction in 1915.
Brian Edwards, a visiting research fellow at the regional history centre at the University of the West of England, who has documented their lives, said: "She was absolutely crucial to this story because, without her legacy, Stonehenge would never have been purchased."
Mr Chubb was knighted a year after Stonehenge was handed to the nation via a deed of gift, and the pair became Sir Cecil and Lady Chubb.
Realising the care and attention Stonehenge needed the government oversaw a number of projects to improve the site for visitors.
Many of the stones had fallen and several had become twisted as a result of many years of neglect.
English Heritage historian Susan Greaney said the circle was in a bad state of repair when it was donated by the Chubbs but that their generosity "would never be forgotten".
Two major sets of work took place, she said, between 1919 and 1921 and in the 1950s and 60s, which left the stones in their current state.
Nowadays, the stone circle is perhaps best known for its use during the summer and winter solstices - when thousands of people gather to celebrate the longest and shortest days of the year.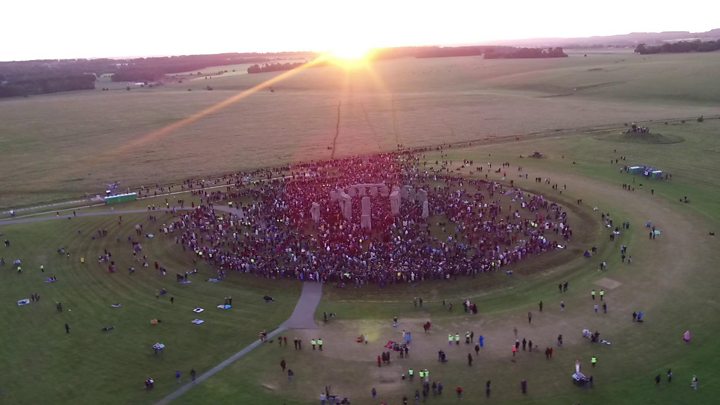 The Stonehenge area is now a Unesco World Heritage Site - joining other UK sites such as the Giant's Causeway, the Lake District and Canterbury Cathedral.
But that status could be under threat.
The government wants to build a 1.9 mile (3km) tunnel to replace the single-carriage road that currently runs alongside the monument, arguing the move would help alleviate congestion.
Highways England argues the tunnel would "restore the tranquil environment and setting of the monument" but archaeologists claim digging the area up would cause irreparable damage.
And because of this, Unesco, which argues a bypass would be better than a tunnel, has threatened to withdraw World Heritage Status.