Stonehenge exhibit shows relations of ancient Britain and Europe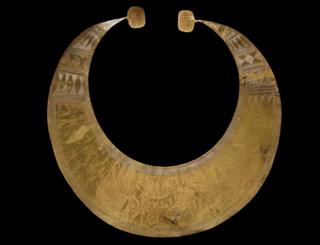 Our ancient British ancestors have been "making and breaking relationships with continental Europe" for thousands of years, a new exhibition will show.
The collection, including a 6,500-year-old jade axe made in Italy, will go on display at Stonehenge on Friday.
Organisers say it highlights how there were different periods of connection with, and relative isolation from, Europe in Britain's history.
It will be the first time the objects have been displayed together.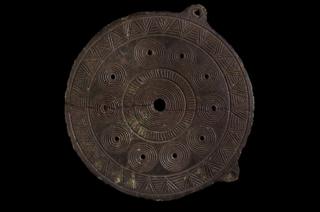 Experts say in the late Neolithic period when Stonehenge was built, about 5,000 years ago, communities living in the British Isles appear to have been insular and had little communication with continental Europe.
But both before and after, in the early Neolithic and the early Bronze Age period, items, styles and religious beliefs were being shared widely.
English Heritage historian, Susan Greaney, said: "From insular communities with what appears to be little outside communication, to mass migrations and the sharing of raw materials and finished artefacts, our ancestors have been making and breaking relationships with Continental Europe for thousands of years.
"Throughout the Neolithic and Bronze Age, Stonehenge stood at the centre of this constantly changing ebb and flow of objects, styles, people and ideas."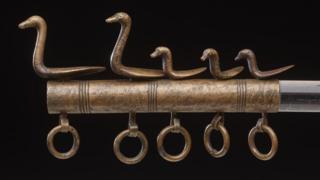 Other objects include three chalk cylinders, decorated with spirals, from about 3,000 BC and known as the "Folkton drums", which were found in North Yorkshire, and were made in Britain, experts believe.
While a copper alloy "sun disc" dating from about 1,500 BC and found in Ireland is believed to have originated in continental Europe.
A gold Bronze Age cup shows close connections between southern England and northern France, and flesh-hooks for lifting meat out of cauldrons and decorated with birds are also on display.
The items come from the British Museum and other collections, including Wiltshire Museum, Salisbury Museum, and Down Farm Museum in Dorset.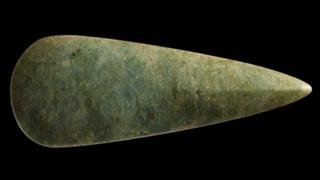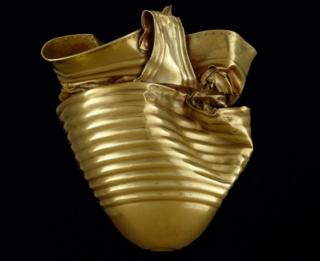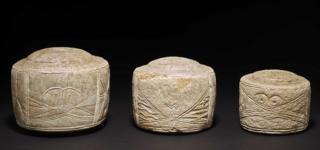 .