Heath probe police chief Mike Veale lied about smashed phone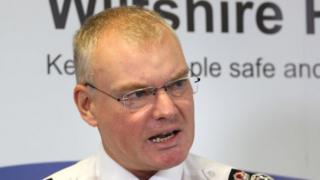 A chief constable accused of hiding information over an abuse probe into former prime minister Sir Edward Heath lied about how his phone was smashed.
The police watchdog found that Mike Veale accidentally smashed the phone when he struck his golf bag.
Mr Veale, then Wiltshire chief constable, said he dropped the phone.
The investigation found he misled colleagues, but cleared him of causing damage "deliberately or with the motive to conceal any information".
Mr Veale, who has now moved to Cleveland Police, had damaged his phone to hide "contact with various parties over Wiltshire Police's investigation into Sir Edward Heath", according to a claim heard by the Independent Office for Police Conduct (IOPC).
Detectives on Operation Conifer found that, had he been alive, Sir Edward would have been questioned under caution over claims of historical child sex abuse.
However, police stressed no inference of guilt should be drawn from this.
Three unnamed people unconnected to Sir Edward were arrested during Operation Conifer, but there have been no charges.
'Particularly poor shot'
The IOPC found that Mr Veale had a case to answer for "alleged misconduct for providing and maintaining an inaccurate account of how damage to his work mobile phone was caused".
It said he had a "momentary loss of self-control" but found no evidence to suggest he was "motivated to conceal information".
In a statement Mr Veale said at the time he was leading the Wiltshire force through Operation Conifer, a "highly-politicised and nationally significant and sensitive investigation".
He said: "From the very outset of the IOPC investigation I informed investigators that my mobile phone was damaged in an unforeseen accident while I was playing golf.
"Out of character for me, I hit my golf club into my golf bag after a particularly poor shot and inadvertently damaged the mobile phone.
"I also informed the IOPC that I told a few of my colleagues at the time that the damage to my mobile phone was caused accidentally in a car park."
Mr Veale added: "I am clear and always have been about why I gave a different account to some colleagues about the accidental damage to my phone.
"It was to avoid more unnecessary media attention and to spare my own obvious embarrassment for damaging my phone in such a ridiculous way, and most importantly to ensure my colleagues were not aware of the pressure I was feeling at a time when I needed to be strong."
'This was a mistake'
He said that after reflecting on his actions, "the account I gave to some colleagues should not have been given".
"I regret that I gave any account at all as to why the damage was caused, as there was no reason to do so as this was simply an accident. This was a mistake and I could have handled it differently."
Lord Armstrong of Ilminster, a friend of Sir Edward, said he could understand Mr Veale was under pressure due to Operation Conifer.
He said: "But it is surprising that that impelled him to mislead his colleagues about the reasons for the damage to his mobile phone."
Wiltshire PCC Angus Macpherson said: "The principal reason that I was not able to extend Mr Veale's contract was because of this referral to the IOPC, particularly as the allegations included the potential crime of criminal damage.
"At the time the severity had not been assessed by the IOPC. I pressed them to make that judgement, however Mr Veale chose to apply for a post in Cleveland.
"I am clear that my actions in not extending Mr Veale's contract whilst this matter was under investigation were correct. Equally, as the allegation had not been adjudicated on, I have made no comment on this matter over the last six months."
Mr Veale took over as chief constable of Cleveland Police in January.