'Neglect' contributed to suicide of Terry Bennett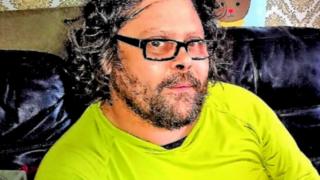 Neglect by health professionals contributed to the death of a mentally ill man who took his own life, an inquest has concluded.
Terry Bennett, 44, cut his throat and wrists and was threatening to kill his mother when he was Tasered by police officers in Warminster, Wiltshire.
He died within an hour from his self-inflicted injuries, the inquest heard.
The coroner listed a series of failures by Avon and Wiltshire Mental Health Trust as contributing to his death.
The inquest heard Mr Bennett had a history of mental health problems and two nurses who had been called to his home concluded he was not at immediate risk of suicide.
His family said repeated calls for help "fell on deaf ears".
Wiltshire and Swindon assistant coroner Nicholas Rheinberg said Mr Bennett's mother had not been given an easily accessible emergency contact number, and described herself as feeling "abandoned" once the nurses had gone.
He said the death by suicide was contributed to by "neglect", including a lack of supervision by qualified staff, a failure to provide detailed medical notes and a failure to carry out a risk assessment for medical staff and the family.
He added there was "inadequate communication" within medical teams and not enough staff to respond to emergencies.
Following the inquest on Friday, Mr Bennett's sister, Tracee Cossey, said he was "allowed to drift and deteriorate without anyone being aware of how poorly he was, or take steps to help him and stop him from harming himself".
An Independent Office for Police Conduct (IOPC) investigation found the use of Tasers was "proportionate and necessary".