Trowbridge platform-edge boy's dad faces no action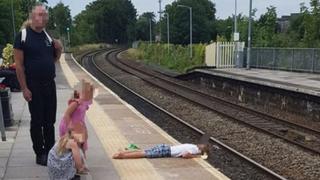 The father of a boy photographed with his head hanging over a train platform will face no further action, British Transport Police (BTP) has said.
A picture of the six-year-old went viral after Tim Brown posted the "absolutely unbelievable" scene at Trowbridge station online.
The boy's father Ian Stanton, 46, insisted his son was there "for all of 30 seconds" and was never in danger.
He was interviewed under caution by BTP but faces no further action.
'Just a snapshot'
The family were on their way to Bath in July when Mr Stanton said their train was delayed.
"He wanted to pick up a stone or piece of wood from the track as treasure," he said.
"I told him it wasn't a good idea and he asked if he could have a quick look."
Mr Stanton said he was "standing right by" his son and "could see the direction the trains were coming from and the information board".
"I knew the man who took the photo wasn't happy but it is just a snapshot," he said.
"Anybody who knows me and knows my kids would realise he wasn't in danger."
Mr Brown, who works for Network Rail, described the incident as "absolutely unbelievable".
His Facebook post showing the boy peering at the tracks from the platform edge attracted more than 4,000 comments, most of which were critical.
David Routley, wrote: "As a freight train driver who drove a 1,000 tonne train through this station, to see this scares and shocks me to the core."
Mr Stanton was interviewed under caution after voluntarily contacting police.
BTP has now confirmed that "no further action will be taken in this instance."