'No payout' for collapsed Wootton Bassett poppy sculpture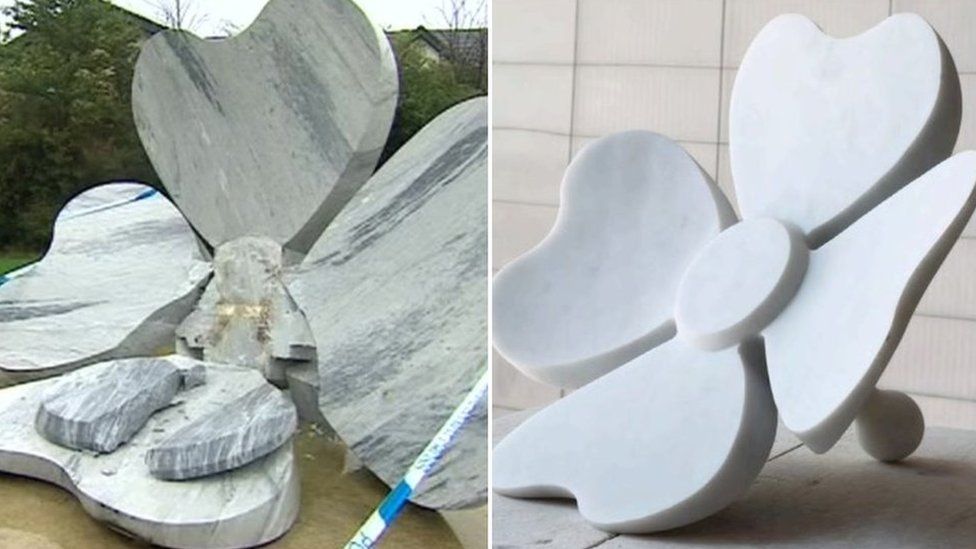 Insurers are "refusing to pay out" £250,000 for a 4.5-tonne poppy which collapsed in Royal Wootton Bassett last year, the town council has said.
Insurance brokers WPS have been approached for comment but have yet to respond.
Town mayor Mike Farrow, said the insurers weren't paying out as they blamed the collapse on a "design fault".
Mr Farrow, said the sculpture - which was lit up red at night - was the first thing visitors saw coming into the town.
"It was definitely an asset and people liked it as opposed to didn't like it," he said.
"But the bottom line is they [the insurers] are saying it was a design fault and consequently they're refusing to pay out."
The town council said it had also been advised by an independent specialist firm that the poppy "should not be repaired or remanufactured".
"We can't replace the stone poppy because it's been proved that design was not effective," said Mr Farrow.
"So we're looking for ideas of what we can put on the plinth, which we've had built for the poppy."
The coffins of 355 fallen military personnel passed through the town between spring 2007 and summer 2011, and the town's high street became a focal point for families of the deceased.
Related Internet Links
The BBC is not responsible for the content of external sites.