Upset at Army's live firing on Salisbury Plain causing fires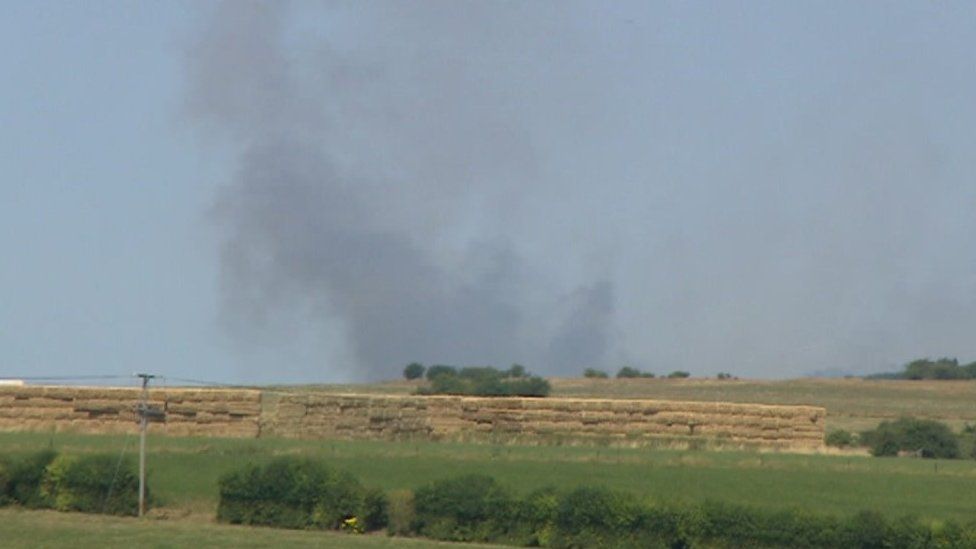 The Army is set to resume live firing on Salisbury Plain despite it causing fires which nearby villagers say are making their lives a misery.
The Ministry of Defence said it would leave the fires to burn out as there was no risk to life or property.
Mark Pollard, who lives nearby in Shrewton, said: "There were a few days where it was pretty acrid, the whole village was covered in smoke."
Fire services say they can only access fires at the edge of the firing range.
The first fire began on 2 July and now there are about three to four fires letting off plumes of black smoke.
In a tweet the Ministry of Defence (MoD) said: "For safety reasons, the fire on Salisbury Plain has been left to burn out.
"We have stopped firing at 12.00 today (Friday 6 July) and will resume firing on Monday morning (9 July)."
Another tweet explained that fires on Salisbury Plain were common and dry and hot conditions meant there were more fires than normal.
You need to do some sort of water drop on the Salisbury Plain fire @mod_dio the smoke/smog is affecting my lungs. No excuses and no need to exacerbate it by starting firing again on Mon. This isnt acceptable

— Sharon MacDonald (@craftymiss) July 7, 2018
The decision has caused anger from many residents in nearby villages like Shrewton and Durrington.
Some residents took to Twitter to complain about the smoke and smog, saying it was affecting their lungs and causing burning eyes.
Dorset and Wiltshire Fire and Rescue Service has said there are three or four different fires and has described it as an "extremely complicated situation".
The fire service is only called in when the fires reach the edge of live firing zones.
Related Internet Links
The BBC is not responsible for the content of external sites.