Novichok poisoning: Salisbury reacts to fresh case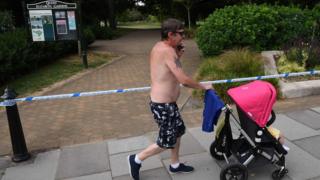 The revelation that two more people have been exposed to the nerve agent Novichock has shocked people in Salisbury. Residents have experienced months of disruption and anxiety since the poisoning of Sergei Skripal and his daughter Yulia in March. Now many are wondering whether, despite a clean-up operation, their city is safe?
Charlie Rowley and his partner Dawn Sturgess, from Amesbury, became ill after visiting Salisbury on Saturday.
Several locations in the city have again been cordoned off while police investigate how the couple came into contact with the nerve agent.
"It's just shocking," says Aaron Allen, who knows Mr Rowley and saw him last week in Salisbury city centre.
"It's not knowing whether people are being targeted at random that is worrying."
"The fact I know him just makes it all worse," he added.
"It was slowly getting back to normal in Salisbury and now this has happened."
Following the attack on the Skripals, a massive clean-up operation was conducted in the city in an effort to keep the public safe.
However, people in Salisbury now face the prospect that this clean-up was not as successful as first thought.
"It's just frightening," said Dawn Dwyer. "It makes you wonder what is going to happen next.
"You don't know if it might be on something you might touch.
"Salisbury is quite quiet normally, really."
Old school-friends Susan Ballam and Angela Majury have lived in and around Salisbury all their lives.
Mrs Ballam said: "You think Salisbury is this beautiful cathedral city but why should it not happen here?
"When the first Salisbury incident happened and everything was closed off with a huge police presence my initial thought was that it was an overreaction.
"Now it feels like it could happen anywhere."
Mrs Majury said: "We need to know if it is the same batch [of nerve agent].
"If somebody has got hold of a batch it might not be the Russians after all."
A pleasant medieval cathedral city in Wiltshire, Salisbury typically attracts its share of tourists.
Steven and Susan Watts, from Bromsgrove, Worcestershire, who are visiting the area with their caravan, said they had decided to go into the city despite some misgivings.
"It's been on my mind," said Mrs Watts. "It's a bit of a worry wondering if they have picked it up somewhere."
In nearby Amesbury, where Mr Rowley and Ms Sturgess were taken ill, there are yet more cordons.
Roy Collins, secretary of Amesbury Baptist Church, said he had seen Mr Rowley at a hog roast at the church on Saturday.
Ms Sturgess was already in hospital at this point.
He said: "We woke up to discover the church was cordoned off. Then we discovered there had been an incident of some kind.
"Now we understand the facts, which are horrific."
The church is one of several places in the town cordoned off, along with Boots, where Mr Rowley and Ms Sturgess had been to pick up a prescription.
Louise Graham said she had visited Boots and had also been near the sealed-off Baptist Church, but was not too anxious.
"People are not panicking because they think this is a random thing," she said.
But another Amesbury resident, Shpati Arapi, felt that people had been kept in the dark, especially those who lived on Muggleton Road, where the couple fell ill.
"We should have been given more information - especially the houses on that street," he said.
"First [we were told] it was drug-related but now it's something completely different."