Tonnes of chalk dropped on Beacon Hill kiwi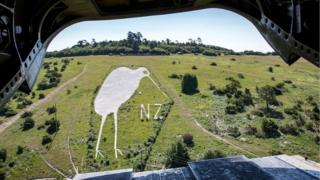 Up to 100 tonnes of chalk has been dropped by helicopter on to a giant carving of a kiwi in Wiltshire.
The 130m-tall (420ft) kiwi was carved into Beacon Hill on Salisbury Plain in 1919 by New Zealand soldiers stationed there at the end of World War One.
An RAF Chinook helicopter was used to airlift in tonnes of chalk, which was raked out by volunteers and spread over the bird.
It is the first time in over 30 years the Bulford Kiwi has been re-chalked.
The Defence Infrastructure Organisation (DIO), which looks after the MOD estate, said the re-chalking would ensure it "remains visible for many years to come".
Richard Osgood, the DIO's senior archaeologist, said: "We've been really lucky, the RAF are using their training flights to get their Chinooks involved and moving some bags from the army basing programme on to the kiwi.
"Then a big team is moving that chalk around to make sure [the kiwi] is well covered and gleaming for future generations."