Couple pulled over on M4 agree to marry in police car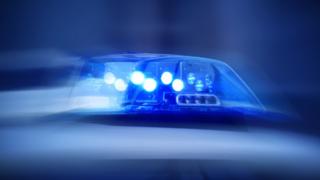 A couple stopped on a motorway for driving without insurance ended up celebrating in the back of a police car after they agreed to get married.
The pair from Bristol were stopped on the M4 near Swindon and had their vehicle seized.
As they were waiting for a lift home, the 23-year-old man proposed to his girlfriend to make "a great story".
The officer who pulled them over was invited to the wedding reception but "politely declined".
PC Alan King said the man had been planning on proposing to his 21-year-old girlfriend on 6 June, but decided to pop the question in the back of the police car the night before to make the most of the situation they were in.
He took photos for the happy couple outside the police car and said: "It's very pleasant for something like this to happen, rather than what we normally have to deal with.
"I wish them all the best for their future."