Stonehenge bypass is 'the best option'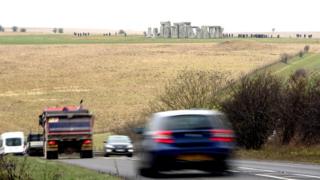 A proposed tunnel at Stonehenge should be longer or scrapped in favour of a bypass, the world heritage body Unesco has said.
It is the latest organisation to criticise the planned 1.9-mile long (3km) road tunnel past the monument following a consultation.
The government wants to build the tunnel to hide the busy A303.
Unesco said "the best option would be a surface route" or if that is not possible a longer tunnel.
Highways England said: "Restoring tranquillity... is central to our plans.
"We remain confident our scheme will enhance and protect the Stonehenge landscape.
"We are confident we can deliver an acceptable tunnel solution and the report accepts we have identified the optimum location for the eastern portal."
'Longer tunnel'
Supporters of the 1.9-mile-long (3km) tunnel say it will "enhance and protect" the ancient site and "restore the tranquil environment and setting of the monument".
But many archaeologists have argued the tunnel would destroy undiscovered artefacts and scar the landscape irreparably.
The report from Unesco, which governs whether a site has World Heritage Status, added "if a surface route is not possible, a longer tunnel is needed".
It said "substantial design refinement" should be pursued and the western entrance of the tunnel should be moved.
Unesco's report concludes the "proposed A303 upgrade project should not proceed with the current length of the tunnel".
The report will be discussed at the next Unesco meeting at the end of June in Bahrain.
Stonehenge
The first monument at Stonehenge was a circular earthwork enclosure with a ring of 56 timber or stone posts, built in about 3000BC.
This was replaced in about 2500BC with sarsen stones and smaller bluestones.
Most archaeologists believe the sarsen stones were brought from the Marlborough Downs, 20 miles (32km) away. On average they weigh 25 tonnes, with the largest stone, the Heel Stone, weighing about 30 tonnes.
The smaller bluestone came from the Preseli Hills, 155 miles (250km) away in south-west Wales. The stones, which weigh between two and five tonnes each, were probably carried via water networks and hauled over land.
Source: English Heritage