Parachute trial: Emile Cilliers 'would never harm wife'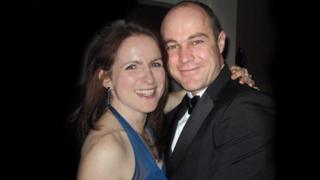 An Army sergeant accused of trying to murder his wife by tampering with her parachute has told a court he "would never" do anything to harm her.
Emile Cilliers, 38, of the Royal Army Physical Training Corps, denies sabotaging Victoria Cilliers' parachute in 2015 in a bid to kill her.
The prosecution alleges he planned to start a new life with his girlfriend.
Mr Cilliers denies two counts of attempted murder and causing a gas leak at the family home in Amesbury.
At Winchester Crown Court, defence barrister Elizabeth Marsh QC asked Mr Cilliers whether he had "harboured any wish to harm" his wife or children.
He replied: "No. Never. I would never do anything to harm any of them."
Prosecutors allege the defendant was £22,000 in debt and believed he was set to receive a £120,000 insurance payout in the event of his wife's accidental death.
'Being stupid'
Mrs Cilliers sent a text to her husband on 30 March 2015 saying she could smell gas and had found blood around a gas lever in a kitchen cupboard.
The army sergeant told the court he could not remember cutting his hand and had not touched the valve as he "really doesn't have any experience of gas".
He suggested to the jury that vibrations caused by nearby building work could have opened the valve.
Mr Cilliers left work early on the day of the gas leak and on his way home he sent Mrs Cilliers a text message to suggest they go parachuting the following weekend.
His wife, an experienced skydiver, survived the 4,000ft (1,220m) fall at Netheravon airfield in Wiltshire in April 2015.
Mr Cilliers described how he went on an all-inclusive holiday in the Czech Republic with his girlfriend Stefanie Goller while Mrs Cilliers, then pregnant, was left at home.
He told the jury he knew he could not afford it, but he "was being stupid and wasn't thinking properly".
Mr Cilliers said he had not told Ms Goller of his "completely out of control" financial problems.
Messages between Mr Cilliers and Ms Goller indicated he was considering leaving his job, but he told the court he was merely "stringing Stefanie along".
As well as having a sexual relationship with his wife and Ms Goller, Mr Cilliers was sleeping with his ex-wife Carly Cillers and had contacted prostitutes.
Days after the birth of his second child with his wife, he arranged to go away for the weekend with a former lover called Wanda, although this "never materialised".
He said he was unhappy in his relationship with Mrs Cilliers, as he thought they may have married "too soon".
But he said he had planned to stay with his wife until their newborn baby was six weeks old, when he would make a decision.
The trial continues.