Parachute trial: Jurors shown sabotage possible in five minutes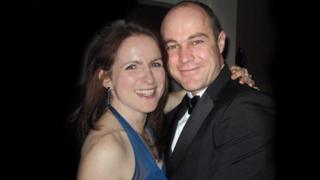 A jury in the case of an Army sergeant accused of trying to kill his wife by sabotaging her parachute has been shown how it could have been done.
Victoria Cilliers, 41, survived a 4,000ft (1,220m) at Netheravon airfield in Wiltshire in April 2015.
A video showing how links could be removed from a chute and canopy lines tangled in just over five minutes was shown at Winchester Crown Court.
Emile Cilliers, 38, denies two charges of attempted murder.
Mr Cilliers, who is with the Royal Army Physical Training Corps based in Aldershot, Hampshire, is accused of tampering with his wife's equipment as well as causing a gas leak at the family home in Amesbury, Wiltshire.
Prosecutors allege the defendant was £22,000 in debt and believed he was set to receive a £120,000 insurance payout in the event of his wife's accidental death.
In a video played to the jury, Paul Applegate, chairman of the British Parachute Association rigging committee, removed two links from a reserve chute and tangled the lines of the main canopy, taking just over five minutes to do so.
The court also heard evidence from Jason Bales, a colleague of Mr Cilliers, who had agreed to act as guarantor for a loan.
Mr Bales told the court that Mr Cilliers had defaulted on the loan and went abroad ski-ing, leaving him liable to pay.
He said he challenged the defendant after several months of exchanging "increasingly heated" text messages but Mr Cilliers "had a completely blank face and said he didn't want to talk about it".
Mr Bales then described losing his temper and tipping Mr Cilliers' desk over before "grabbing him by the scruff of the neck".
The matter was referred to a senior officer and Mr Cilliers was told he must repay the money. He asked Mrs Cilliers for the funds, which she gave him.
Mr Bales also told the court that "it was common knowledge" that Mr Cilliers was separated from his wife and he "was surprised" to hear the couple had gone skydiving together.
He also said he saw Mr Cilliers at work shortly after Mrs Cilliers' near-fatal fall.
"He was busy printing off his wife's life insurance forms," Mr Bales told the court.
The trial continues.