Wiltshire Council respite care cut 'wrongfully made' ombudsman finds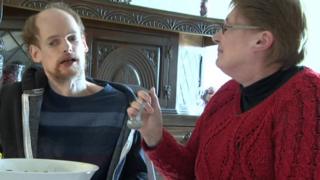 Up to 200 people with learning difficulties may have had their respite care packages wrongly cut, a council has admitted.
The Local Government and Social Care Ombudsman has upheld a complaint by a mother, finding that Wiltshire Council used out-of-date calculations to ration her son's care.
The ombudsman said the council did not discharge its duties under the law.
The council has apologised and agreed to pay compensation.
Jill Homersely, of Swindon, complained about the council's decision to cut the respite care package for her son Neil, 38, who has learning difficulties, autism and epilepsy.
His overnight stays at Deriads Lane, Chippenham, had been reduced from 104 to 68 a year. The package has now been reinstated.
Jeremy Wickham, council cabinet member for adult social care, said about 800 people with learning difficulties currently received council support.
On the number whose care packages had been cut in error, he said: "There could be as many as 200, but we don't think it's as much as that.
"Officers are going through and checking on that as we speak.
"We will look on each and every case on the eligible needs of those individuals and make sure any package reflects their needs."
'Anxiety and stress'
Mrs Homersely said the cuts had left her "tearful and very down".
She said: "There was no-one else I can get who can do that respite for me. The stress would have made life impossible.
"I was absolutely surprised to see all the things the ombudsman felt hadn't been done properly."
The ombudsman, Nigel Ellis, said: "This was a case where a family who had, frankly, enough challenges of their own already suffered at the hands of a council that wasn't actually discharging its duties under law.
"They had to suffer injustice and anxiety and stress of not knowing whether the social care services that they relied on so much were going to be provided in the future.
"The family were left at a crisis point and our investigation found that never should have happened if the council had simply observed the law."
The ombudsman has given the council three months to check whether others have been affected and to report back.
The authority is considering closing the Deriads Lane unit to make savings and because demand has fallen.
It said there was enough capacity in the system to meet local need.