Swindon museum and art gallery funding rejected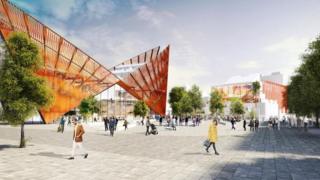 A bid for funding to help build a new museum and art gallery in Swindon town centre has been rejected by the Heritage Lottery Fund (HLF).
Swindon Museum and Art Gallery Trust submitted a second bid for £12.7m of the estimated £22m cost in November 2017.
However, it said while the bid met all the criteria necessary, the HLF has chosen not to select the bid.
Chairman Robert Hiscox said the trust will now explore alternative options.
A spokesperson from the HLF said: "We know this news must be very disappointing but our recent board meeting was over-subscribed and highly competitive, meaning we sadly did not have enough money to support all the applications we looked at on the day."
'Cultural quarter'
Mr Hiscox said: "The work done on the bid has not been wasted, as the profile of Swindon's culturally important collections has been raised locally and nationally, and has generated huge amounts of engagement around the importance of culture to the people of Swindon."
The building was designed to be the centrepiece of a new "cultural quarter" in Swindon town centre.
It would house the town's significant collection of British 20th Century modern art, which includes works by Lucian Freud, Henry Moore, LS Lowry and Graham Sutherland.
In 2015 Swindon Borough Council also made a bid for funding which failed. The authority leader has pledged £5m to the project.
Council leader David Renard, said: "We are disappointed the trust's bid was not selected by the HLF but we will not let this setback dim our ambition for a new museum and art gallery."