Conservatives defend Labour challenge in Swindon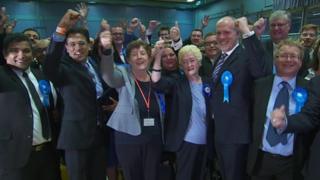 The Conservatives have held on to control of Swindon Borough Council by the smallest of margins.
The votes of Thursday's local elections were counted overnight, leaving the Tories with a majority of just one seat.
Labour, whose party leader Jeremy Corbyn visited five times during the campaign, were deeply disappointed.
They gained one seat at the expense of the Liberal Democrats, who in turn took a surprise seat from the Conservatives.
Swindon Borough Council's Conservative leader David Renard said: "Well, I'm absolutely delighted that we've fended off a significant challenge from the Labour Party.
"They've worked very hard in six of our seats, they've brought in a lot of people, spent a lot of time, money and effort in trying to take some of those seats and they've not taken one from us, so I'm absolutely delighted."
Labour Group leader Jim Grant said: "There's no question about it, it is disappointing.
"The Labour Party in Swindon is disappointed that we failed to take any seats from the Conservatives. But we need to go away, pick ourselves up and come back next year.
"I'm certain we can take seats from the Conservatives and I'm certain we will do next year."
Swindon was one of five areas - along with Woking, Gosport, Bromley and Watford - where voters had to show ID as part of a trial aimed at curbing voter fraud.
Click here to see detailed results of the election.
---
Analysis: Paul Barltrop, West of England politics editor
"Disappointing." Publicly that was how Labour members in Swindon described the election result.
Privately it will be much, much stronger.
It is not just that the Conservatives have been in control of the council for 14 years.
It is not just that with the Tories in government for eight years Labour would expect to be pushing them back in local elections.
It is also that Swindon gives a good clue as to what will happen in general elections.
For decades the way the town has voted has tallied with the way the national vote has gone.
That is why Jeremy Corbyn has visited five times in the last six months - he knows he needs to take its parliamentary seats to become Prime Minister.
And that is why the biggest smiles of the night were on the faces of Swindon's two Conservative MPs.
As for running the council with a one seat majority, Tory leader David Renard was sanguine.
That was exactly how it was when he took the helm five years ago.
He will get back to work and start preparing for the next Labour assault in 12 months time.
---