Parachute trial: Wife 'planning to leave' husband after baby born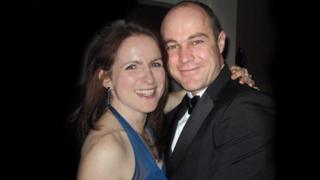 The wife of an Army sergeant accused of trying to kill her by tampering with her parachute and a gas valve, has told a court she was planning to leave him.
Victoria Cilliers, 41, survived a 4,000ft (1,220m) fall after both her main and reserve parachute failed during a jump in Wiltshire in 2015.
Winchester Crown Court heard she had planned to wait and leave her husband sometime after their baby was born.
Emile Cilliers, 38, denies two charges of attempted murder.
Mrs Cilliers told the court that her husband's behaviour had led her to believe the marriage was over, that he had "used her" and she "planned to use him".
"I couldn't look after the baby and [their other child] on my own," she said.
"If he hadn't shaped up significantly by our wedding anniversary in September, I would have been out."
But in a police interview in May of that year, Mrs Cilliers said she "loved the guy", thought he had become more supportive and was afraid of him leaving her.
"I felt like I was sitting on a time bomb, just waiting for him to turn around and say it was all over," she said.
On Thursday, prosecution barrister Michael Bowes QC questioned Mrs Cilliers about an incident in which she challenged her husband over his smoking in her car.
In a video-recorded interview played to the court, she told officers Mr Cilliers "was livid, his face went sort of blank. I've never seen that look on anyone's face before. I backed down and ended up apologising as usual".
But when Mr Bowes suggested she always capitulated when her husband "pushed back", she insisted she "was a strong person" who did not give in.
'Live with it'
Mr Bowes detailed a number of instances in which she had backed down after confronting Mr Cilliers about both his fidelity and financial matters.
"I was learning to live with it," Mrs Cilliers replied.
The prosecution alleges Mr Cilliers sabotaged his wife's main and reserve parachutes, causing them to fail during a jump at the Army Parachute Association at Netheravon, Wiltshire, on Easter Sunday 2015.
Mrs Cilliers, described as "a highly experienced parachutist and parachute instructor", survived the fall, which has been described by experts as "a miracle".
Mr Cilliers, of the Royal Army Physical Training Corps in Aldershot, denies two counts of attempted murder and one of damaging a gas valve, recklessly endangering life.
The trial continues.