Parachute trial: Soldier 'thought he would get £120k death payout'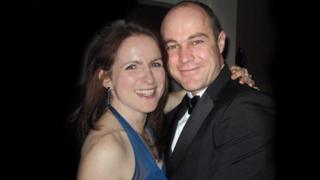 A soldier accused of trying to kill his spouse by tampering with her parachute thought he would get a £120,000 life insurance payout, his wife told a jury.
Emile Cilliers, 38, of the Royal Army Physical Training Corps, denies two charges of attempted murder.
Winchester Crown Court heard that Mr Cilliers owed £19,000 to his wife Victoria Cilliers.
Mrs Cilliers also told the court she "elaborated" when she gave her original statement to police.
When questioned by the police in May 2015, Mrs Cilliers said Emile Cilliers had taken her parachute rig into the toilet with him at the airfield, and he was there "for about five minutes".
But on Tuesday, she told the court that he had been quicker than she had first alleged and that she "elaborated".
"I'm not saying I'm lying completely. I was angry when I made that statement and lied throughout it in order to paint Emile in a bad picture," she told the prosecution.
'Something wasn't right'
An accident investigation team found that the lines to the main canopy were tangled and two links connecting the reserve parachute's canopy to the harness had been removed.
The court was played a 90-minute video recording of Mrs Cilliers' original interview with Wiltshire Police.
On the tape Mrs Cilliers was wearing a body brace and using crutches due to her injuries, which included a smashed pelvis, collapsed lung and broken ribs.
She told the interviewing police officer that as soon as she pulled the parachute cord she knew "something wasn't right" and was "fighting against" the chute as it span out of control.
She lost consciousness while falling and only briefly came round when she hit the ground and again when she was in A&E at hospital in Southampton.
No assets
Michael Bowes QC, for the prosecution, also took Mrs Cilliers through the couple's financial arrangements.
Mrs Cilliers told Winchester Crown Court both she and her husband thought the insurance money would go directly to him rather than to her estate.
Documents read to the court showed that she had some savings and owned the family home in Amesbury, Wiltshire, while Mr Cilliers had no assets.
She was also questioned about her will, in which she left everything to her two children, unbeknownst to her husband.
The prosecution alleges Mr Cilliers sabotaged his wife's main and reserve parachutes, causing them to fail during a jump at the Army Parachute Association at Netheravon, Wiltshire, on Easter Sunday 2015.
Mrs Cilliers, described as "a highly experienced parachutist and parachute instructor", survived the 4,000ft (1,220m) fall, which has been described by experts as "a miracle".
Now largely recovered from her injuries, Mrs Cilliers remained standing throughout her testimony.
Mr Cilliers, a sergeant in the Royal Army Physical Training Corps, denies two charges of attempted murder and another of criminal damage with reckless endangerment to life.
The trial continues.